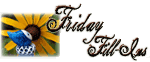 And…here we go!
1. As you can see from my previous posts, I'm a huge tennis fan. The Barclays ATP Tour in London and Davis Cup Championships in Spain are around the corner so I'd be up and about during unholy hours again, beginning this week.
2. It is the Christmas and New Year holidays soon! Egad. This year just flew by very quickly.
3. I love to buy paper ephemera, vintage postcards as well as other paper craft products.
4. Oh, blimey! It's my husband's birthday exactly one week from today and I haven't found him ye a perfect birthday gift(s).
5. What's up with Gordon Ramsay and his Hell's Kitchen? How can someone eat food prepared by cooks with lots of anger, cussing, and screaming?
6. A return ticket PP-KL and free hotel and accomodation for 5 days starting this weekend are right at my fingertips; within easy grasp but had to let go because of this stupid back problem.
7. And as for the weekend, tonight I'm looking forward to a little wine and cheese, tomorrow my plans include getting a  full-body massage  Sunday, I want to have a quiet, relaxing time with my husband, watching DVDs!