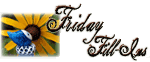 And…here we go!
1. It's time to let our hair down and party!!.
2. Make sure the dogs have water before you leave... and don't forget the bags of garbage on your way out!
3. I'm trying to revive my other dormant blogs.
4. "Good God, (pro tennis player) Andy Murray's mouth is huge", that was the last funny comment I received.
5. Please send  me a postcard.
6. Don't underestimate me and my capabilities cause I'm in it for the long haul.
7. And as for the weekend, tonight I'm looking forward to wine night, tomorrow my plans include shopping and Sunday, I want to finish my chores early so I can watch and enjoy the Australian Open men's finals match between Rafael Nadal and Novak Djokovic without any interruptions!